Lawlor's of Naas is the go-to destination for music lovers in Kildare with live music, events and entertainment all year round. With frequent show nights in the Ballroom, you can expect to see a wide range of artists, from country music stars to Ireland's best tribute bands.
Below we proudly present our upcoming lineup of sensational live music events. Still to come in 2023 is Country music superstar Louise Morrissey and tribute bands Bay City RollerWorld, Abba Sensations and the Cash Returns show. We also have your weekend entertainment covered with live music every Friday and Saturday in the main bar from 10pm.
Tickets to individual events can be purchased at our hotel reception or via the links below, but why not make the most of it and enjoy tickets to the event of the night, pre-show dinner and an overnight stay with our STAY IN STYLE, ROCK IN RHYTHM package.
Louise Morrissey - 24 October 2023
Join Louise Morrissey in a wonderful celebration of her 35th Anniversary in country music. Louise will be joined on each night by some special friends. Louise will be performing all-time favourites such as Tipperary On My Mind, Flying Home To Aherlow, The Tear, September Sky, Circles, Katie Daly and many more wonderful hits throughout the night. She will be joined at Lawlor's by a star studded line up of friends such as Kathy Durkin, John Hogan, Olivia Douglas, Marty Daniels, Bernie Heaney and full country Band Matrimony. Special compere on the night will be Liam Kett Kfm. This will be a fun filled memorable celebration of Louise and her wonderful career so be sure to join in. Get your tickets at our hotel reception or here: LOUISE MORRISSEY TICKETS
Bay City Rollerworld - 29th October 2023
Join us for a blast from the past with Bay City Rollerworld, The Smokie Experience and The Sensational 70's Superstars paying tribute to three of the biggest hitmakers of the 70's and 80's in the Ballroom of Lawlor's on the October Bank Holiday weekend!
This is the ultimate 70's party experience, a live fully costumed band taking you on a trip down memory lane as they belt out the Bay City Rollers and Smokie hits! So dust off your 70's gear, bring your dancing shoes and get ready for a nostalgic experience that will have you on the dance floor all night long.
Tickets available at our hotel reception or here: BAY CITY ROLLERWORLD TICKETS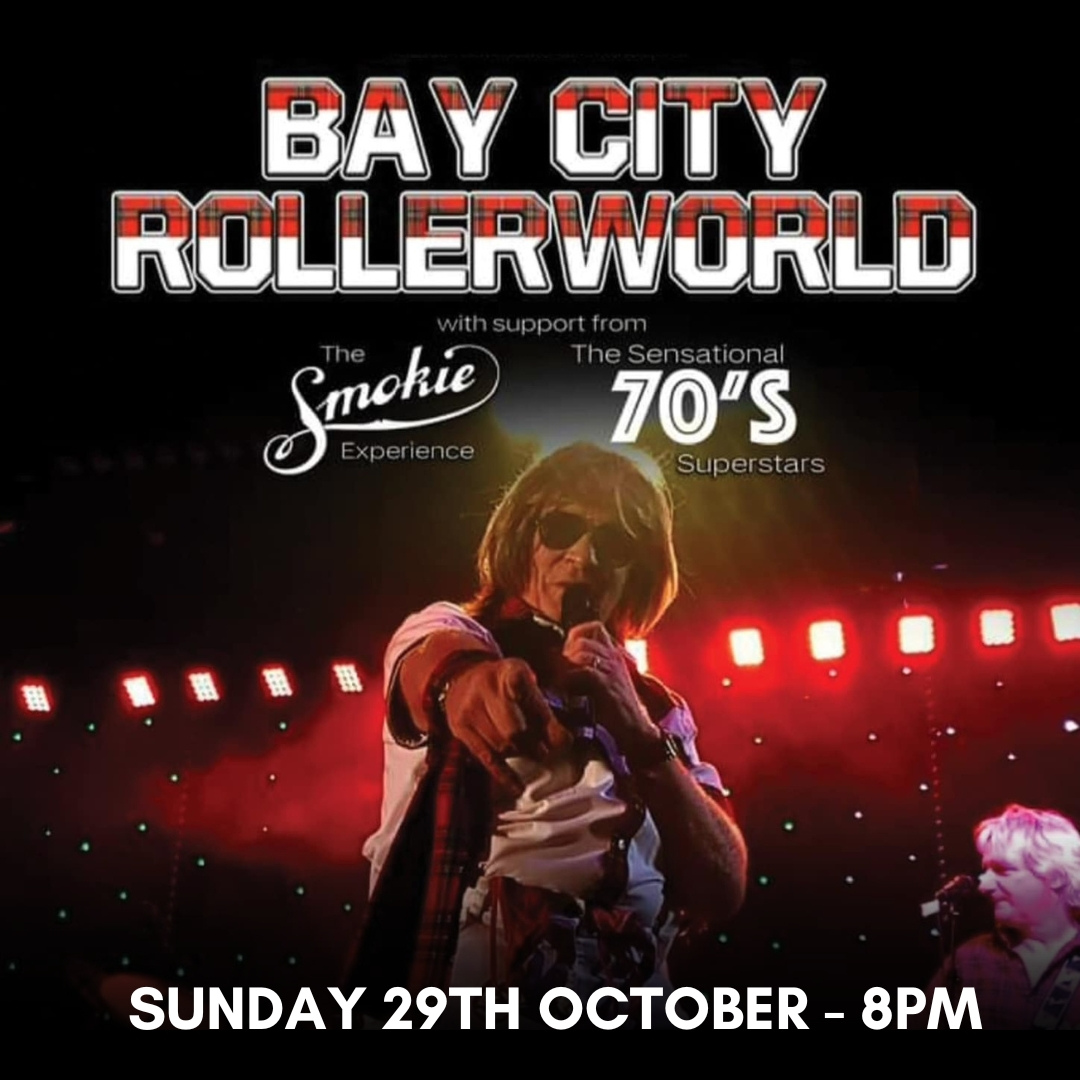 ABBA Sensations - 27th December 2023
Take yourself back to the golden days of ABBA over the festive period when ABBA Sensations comes to Lawlor's of Naas. With stunning costumes, harmonies and choreography, you'll get the full ABBA experience. Dance the night away to all of your favourite hits from Dancing Queen, Super Trouper, Mamma Mia, Waterloo, Thank you for the music, Take a chance on me, SOS and so many more. ABBA Sensations are one of the most in-demand ABBA tributes in Ireland so you'll be in for a fantastic night!
Tickets available at our Hotel Reception now.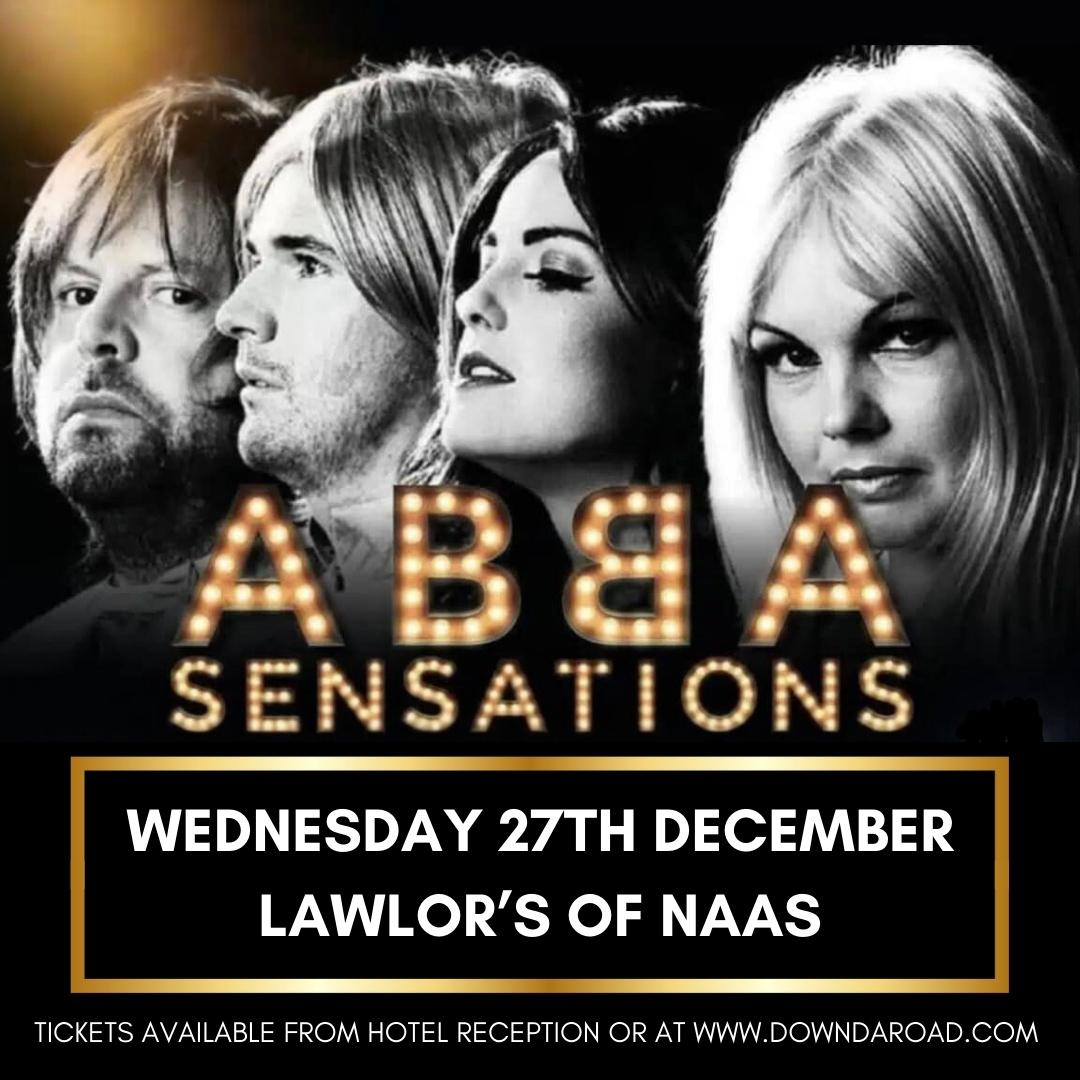 Cash Returns, the Johnny Cash & June Carter Tribute Show - 29 December 2023
CASH RETURNS' - has been hailed hands down the greatest and most exciting Johnny Cash & June Carter Tribute in the UK, Ireland and beyond by Man In Black fans everywhere and we are thrilled to be bringing it to the stage in Lawlor's. Expect to hear all of the show stopping classics such as, 'Folsom Prison Blues', 'Get Rhythm', ' Walk the Line', 'Hurt' and of course the duo hit 'Jackson', as award-winning frontman, JP Mac takes to the stage as Johnny Cash. Karen Martin brings all the vibrancy and onstage sassiness of June Carter complete with fantastic vocals. Don't miss this fantastic night, get your tickets at our hotel reception or here: JOHNNY CASH & JUNE CARTER TRIBUTE TICKETS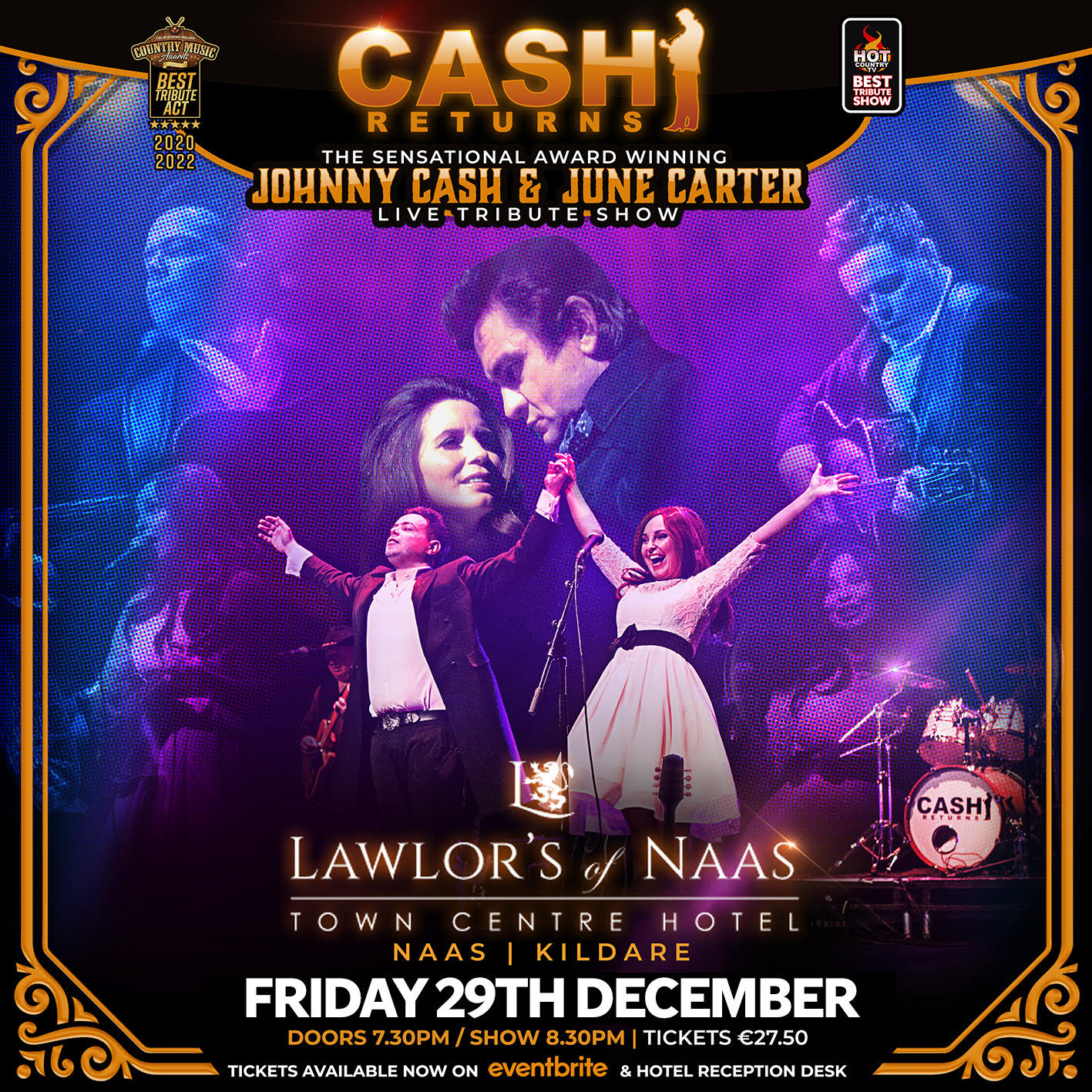 Foster & Allen - 6th January 2024
Foster & Allen aren't showing any signs of slowing down and their recording and touring commitments prove how popular they remain for their fans who like to hear them at home and see them in a live experience. Mick & Tony will be performing all of your favourite hits such as "Bunch Of Thyme", Old Flames, Maggie, After All These Years, We Owe It All To You, Mrs. Brown's Boys, as well as some new recordings from their new album. Get your tickets now and join us for an incredible night.
Tickets available here: FOSTER & ALLEN TICKETS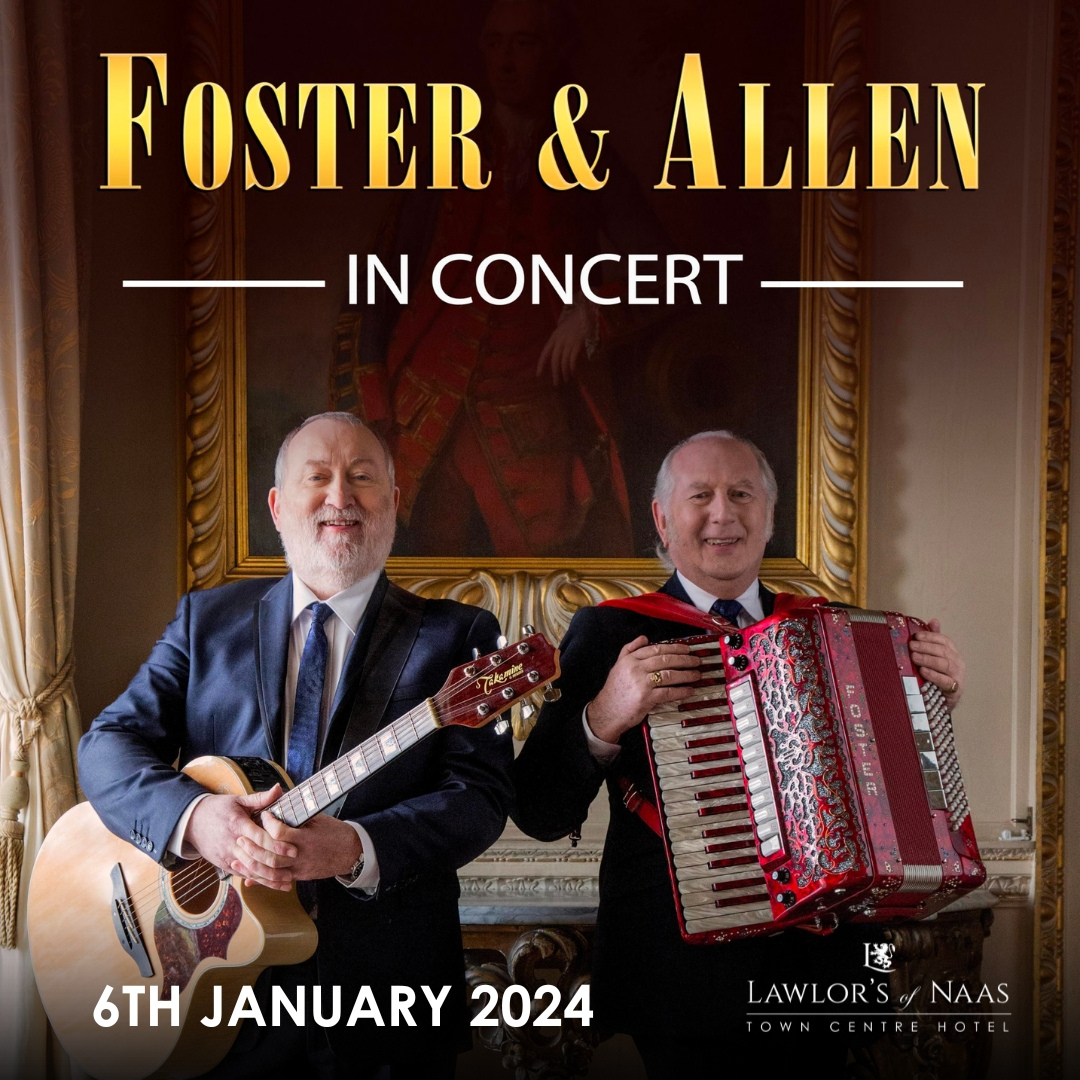 Tina Turner Tribute - 4th February 2024
Experience the thrilling energy of Proud Mary & Her City Limits Band featuring Amanda Lane, as the music of the iconic Tina Turner comes to life in this epic tribute show. Your night will be Simply the Best as you get to dance the night away with songs such as 'Private Dancer', 'The Best', 'Steamy Windows' and 'Nutbush' to name a few. Proud Mary has a big personality & a powerhouse voice taking command of her audience from the moment she steps on stage. You are guaranteed an unforgettable performance and night with all your favourite hits of this rock icon.
Tickets available at our Hotel Reception now.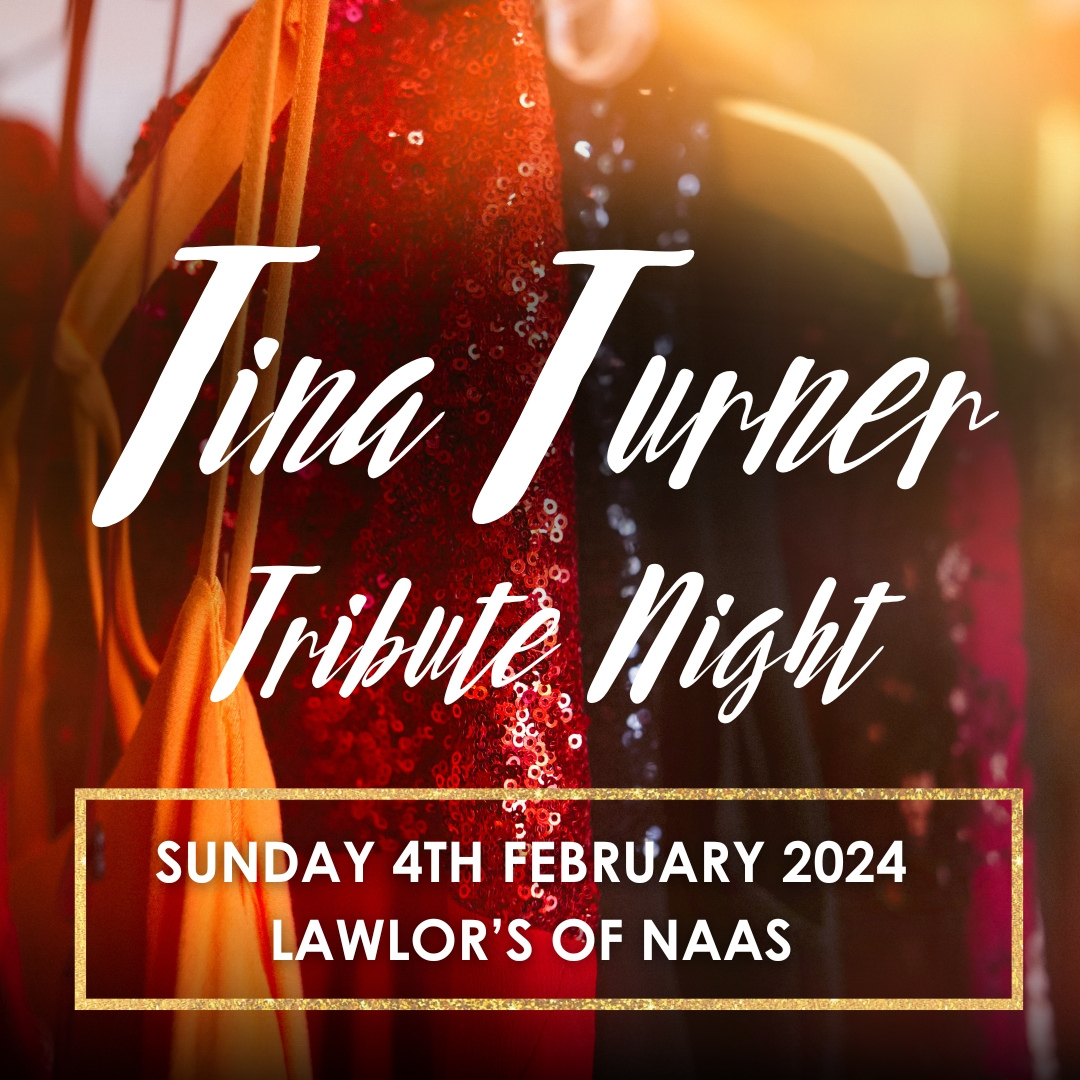 Michael English - 11th February 2024
Michael English is one of Ireland's most renowned Country Music Entertainers and has won countless awards for his energetic performances and musical talents. An accomplished songwriter, pianist and accordion player, he performs concerts and dances to sell-out crowds throughout Ireland, the UK and further afield. Come and join Michael and his Superband for a spectacular musical evening, covering all of your favourite hits, along with classic favourites. This is a show that you just simply cannot miss!
Tickets coming soon.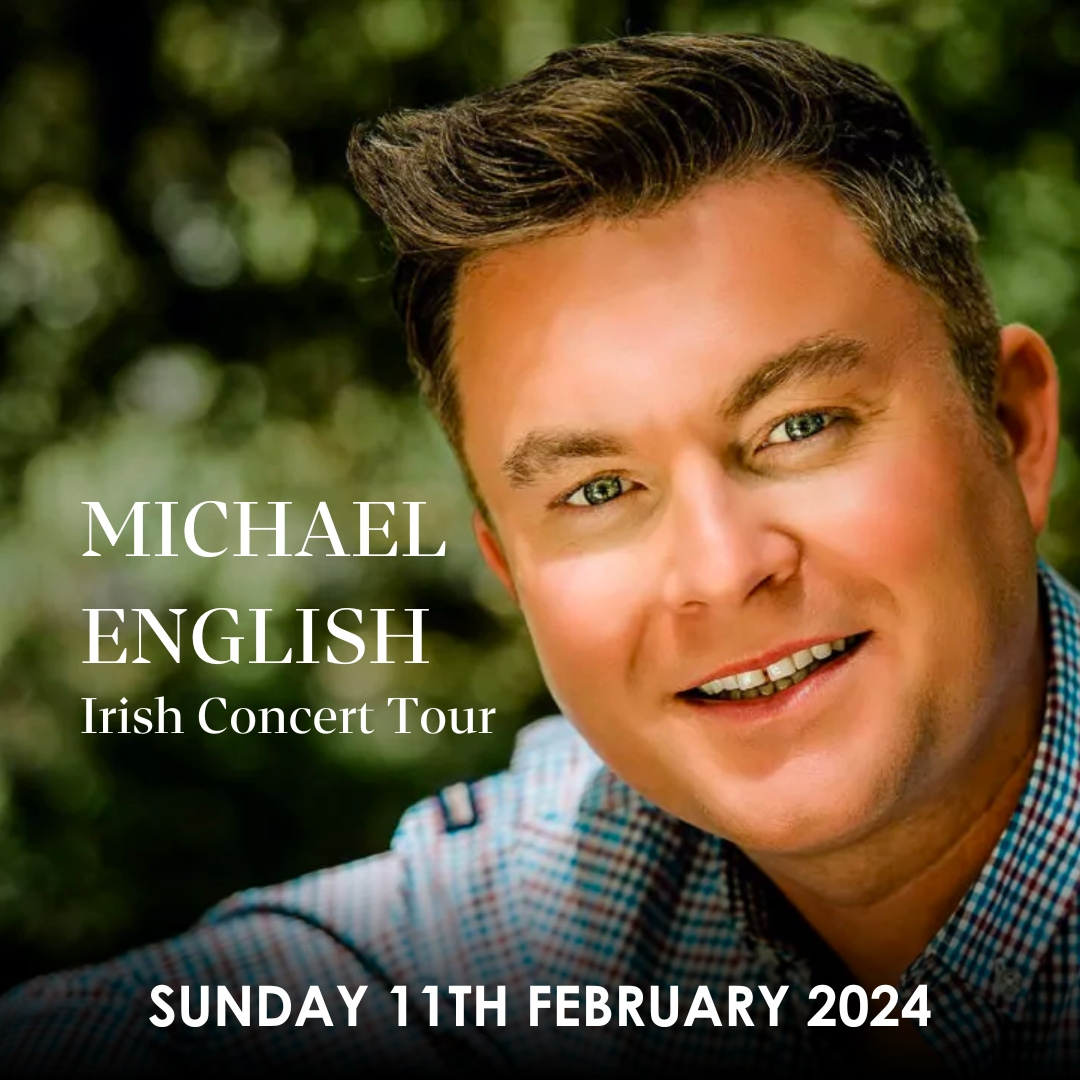 Qween - 15th March 2024
The Queen tribute band that you will be talking about for a long time to come! Qween is coming to Lawlor's for the March bank holiday weekend and it's set to be a musical extravaganza. Brian and his band are one of the most sought after Queen tribute band in Ireland and they are coming to rock you and keep you on our Ballroom dancefloor all night. Mark this date in your calendars!
Tickets coming soon.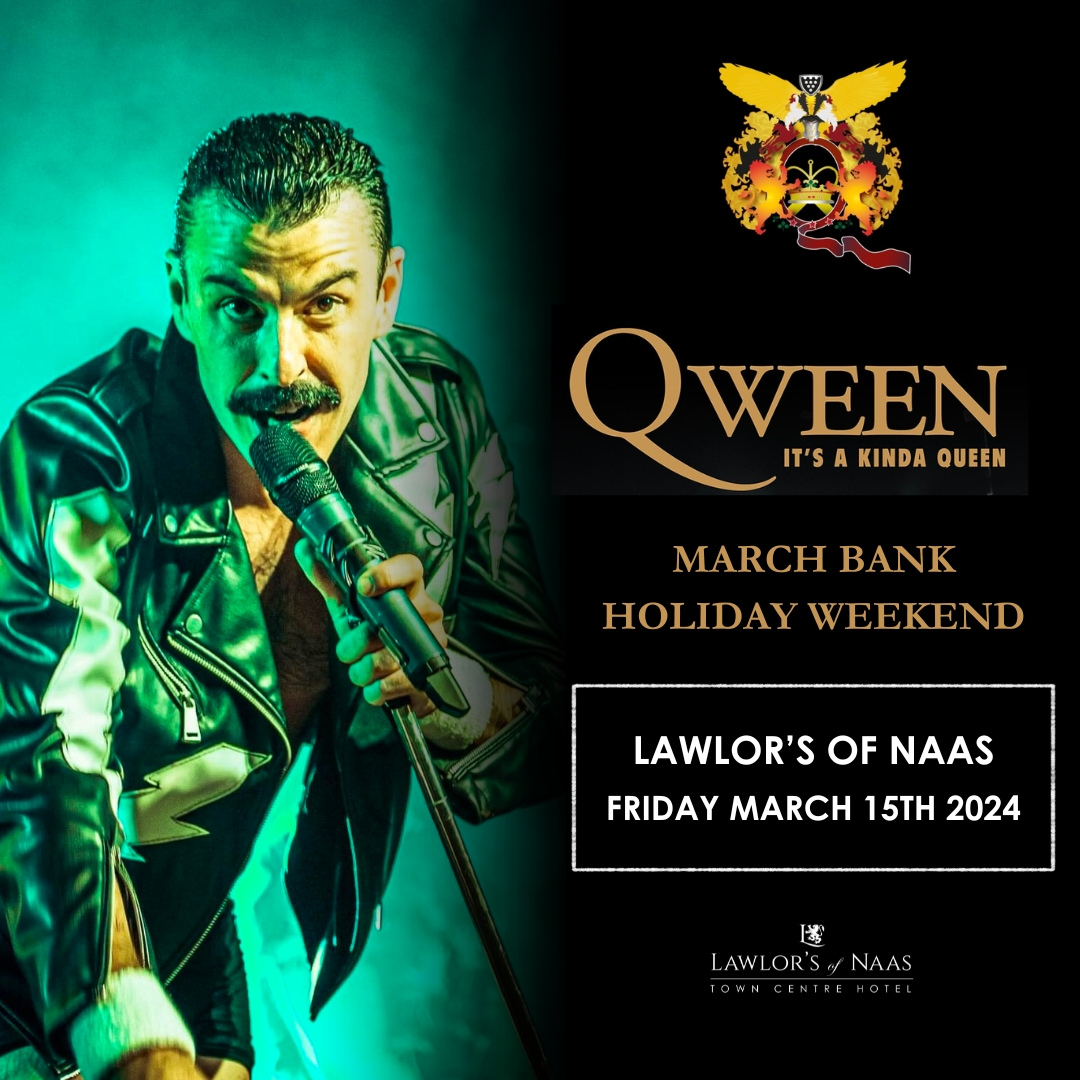 Robert Mizzel - 17th March 2024
Your St. Patrick's day entertainment sorted! Robert Mizzel is a top Country Artist in Ireland and the UK, we're delighted to have him come to the stage in Lawlor's of Naas to perform his top hits such as "Kick Ass Country", "Say You Love Me", "Gone, Gone, Gone", "Two Rooms And A Kitchen" and many more. This fun-filled country music night is the perfect way to celebrate the bank holiday weekend.
Tickets available at our Hotel Reception now.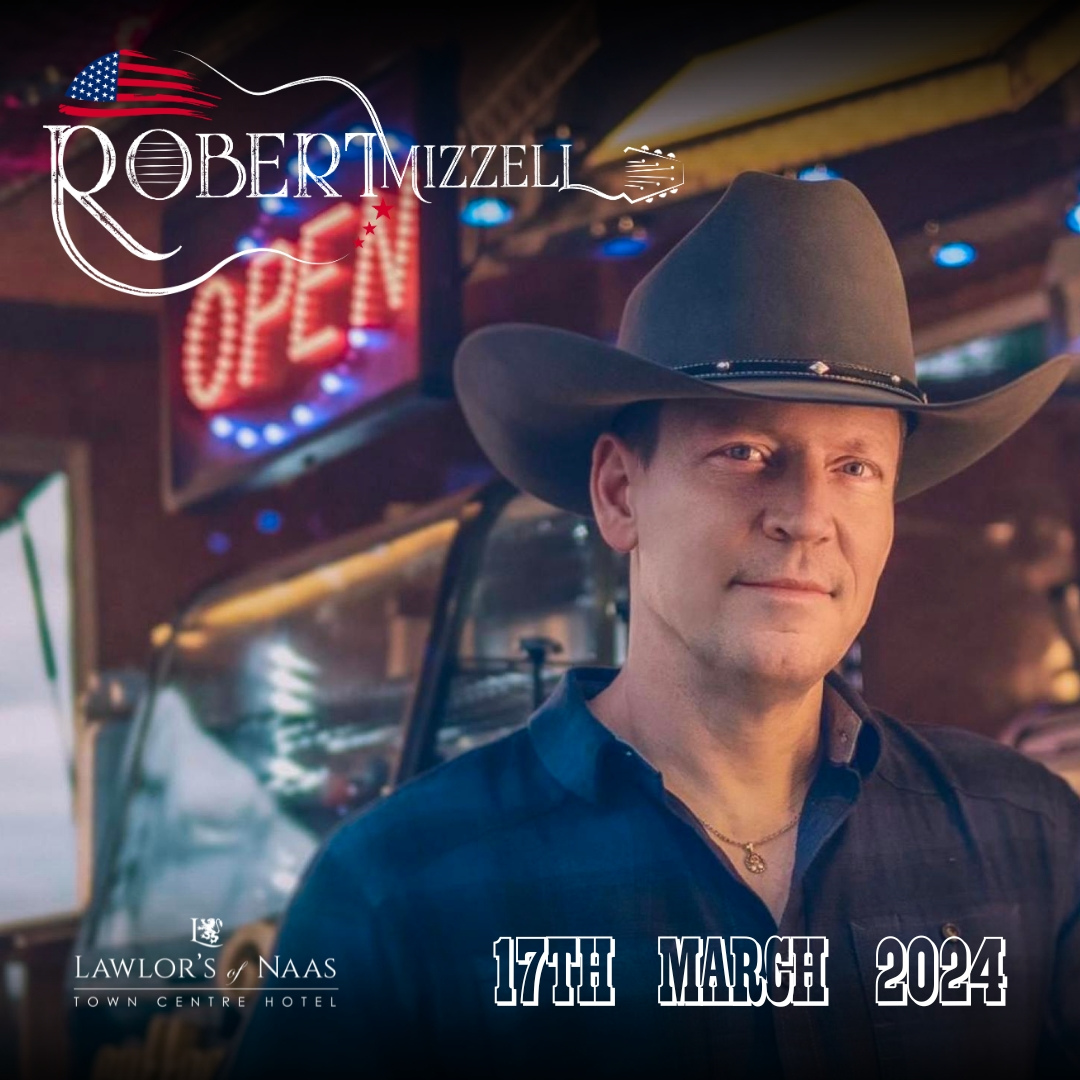 Stephen Pride - 30th March 2024
Stephen Pride (Charlie Pride's Brother) presents in concert with a top six-piece country band all the hits of the Country legend Charlie Pride. A night of live music not to be missed at Lawlor's of Naas.
Tickets coming soon.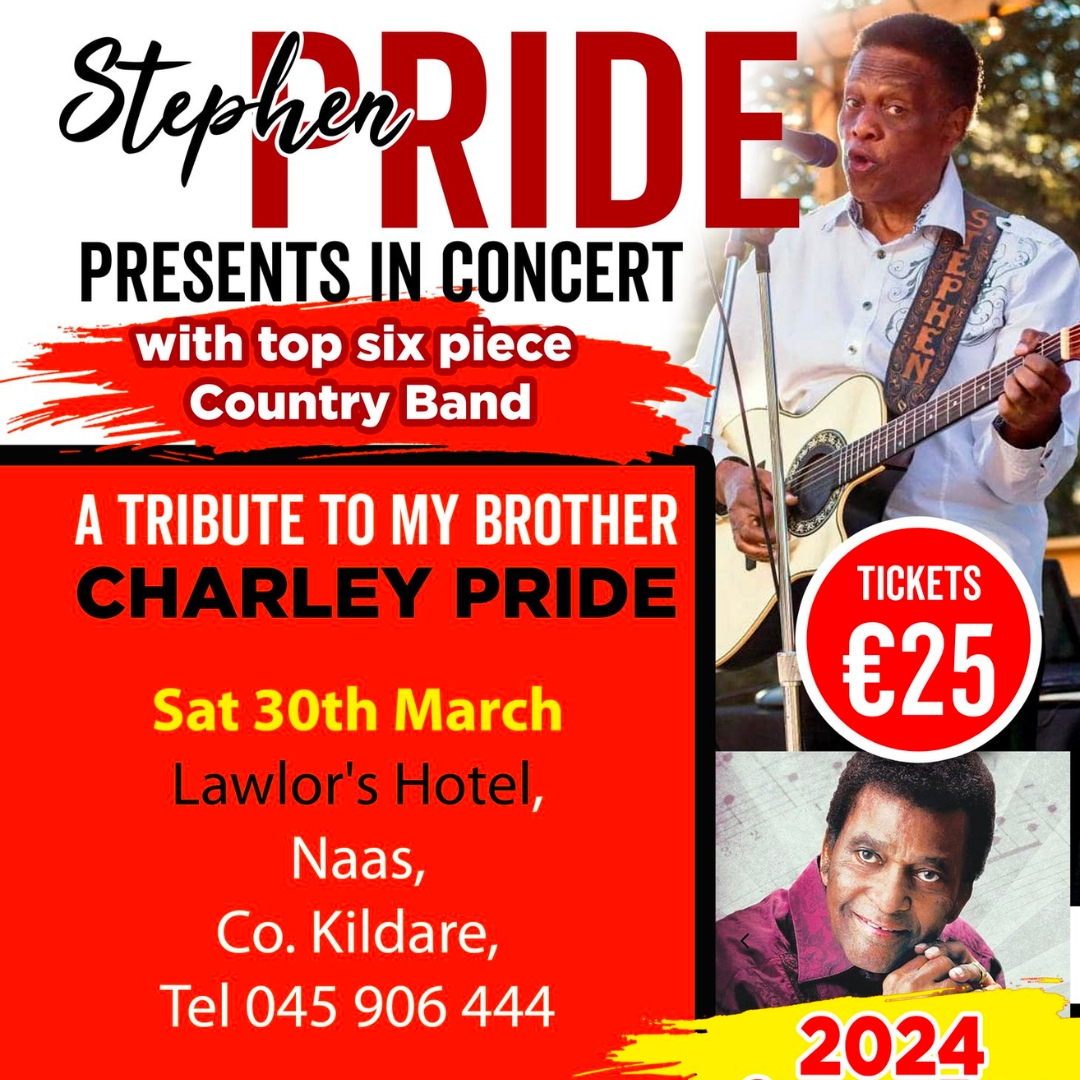 Elvis Tribute - 31st March 2024
Experience the magic of the King of Rock 'n' Roll himself as Elvis Spectacular Ft Ciaran Houlihan & his band come to the stage in the Ballroom! Step back in time and get "All Shook Up" as our talented performer channels the spirit of Elvis Presley. With hits like "Love Me Tender" and "Jailhouse Rock" echoing through the Ballroom, this event promises an unforgettable evening of music and nostalgia. Don't miss out on this sensational event; it's now or never!
Tickets available at our Hotel Reception now.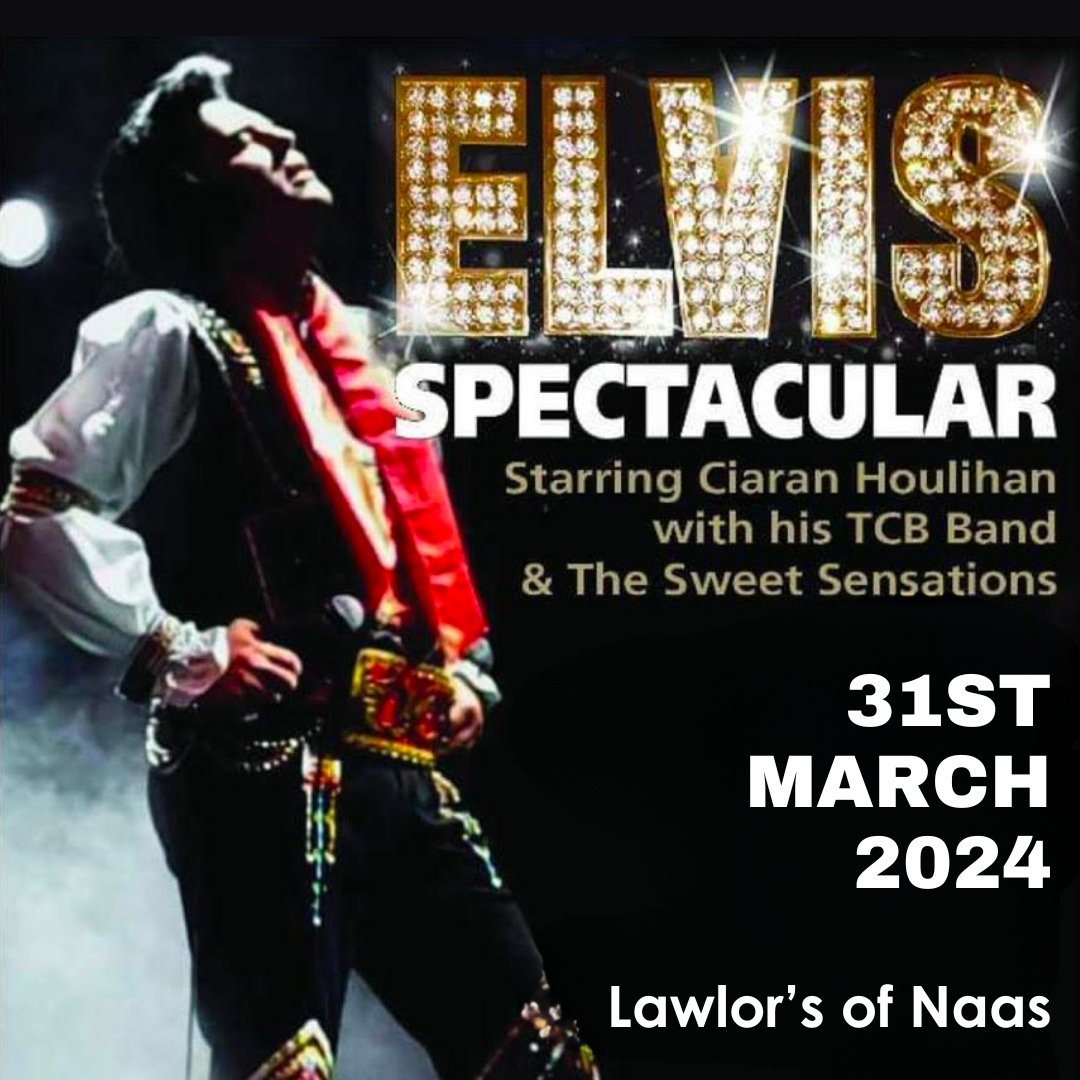 Oasis Tribute - 5th May 2024
Live Forever Oasis are the definitive tribute to the 5 piece Manchester super group Oasis. Their highly acclaimed Oasis Tribute Show consists of the Hits, B-sides and Album Tracks from one of the most popular & iconic bands of all time. A night full of anthems, antics and good times awaits. Get your tickets now!
Tickets available at our Hotel Reception now.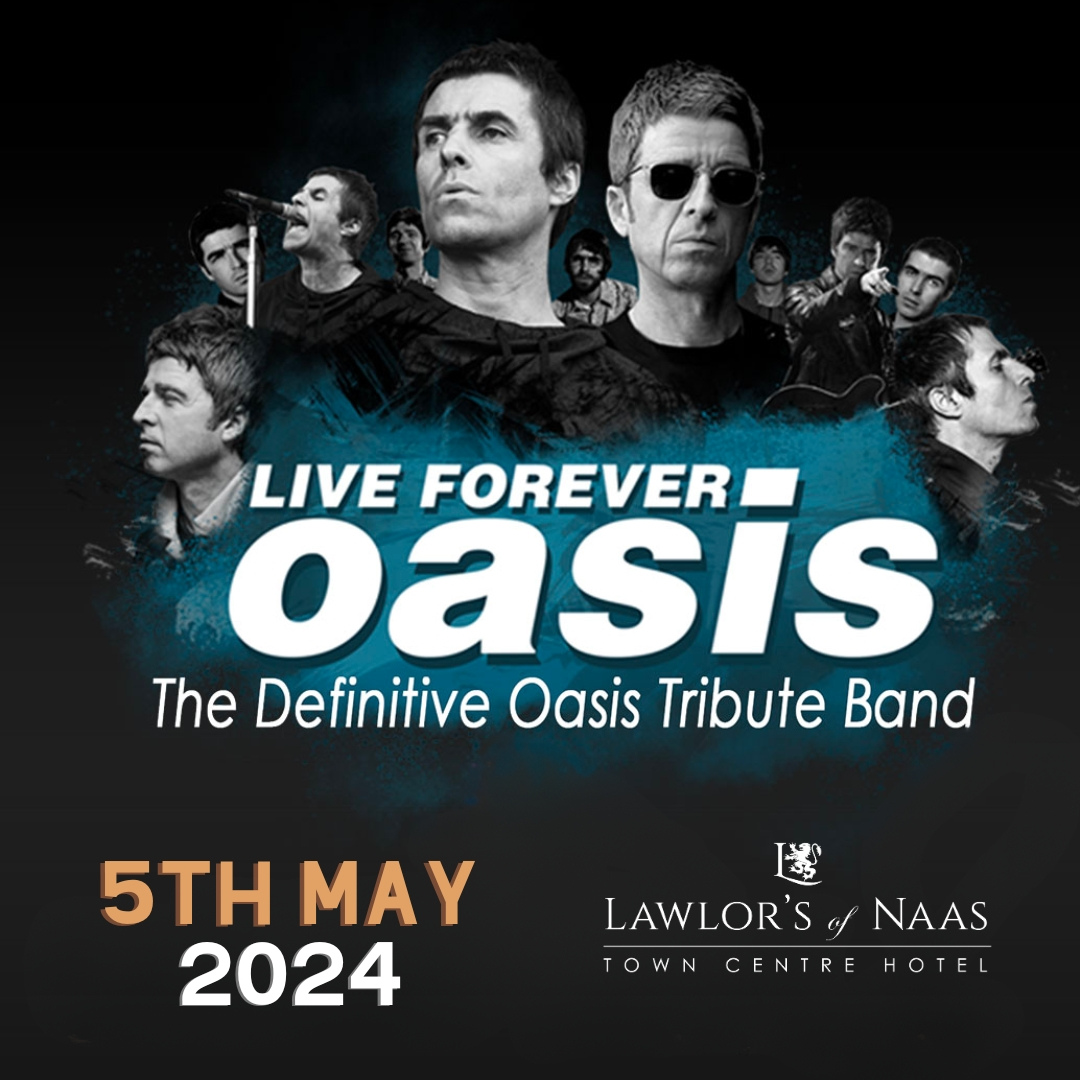 Absolute Eagles - 2nd June 2024
Ireland's No. 1 tribute to The Eagles are set to take to the stage in Lawlor's in June 2024. Playing all the hits from 1972 right up to the modern day classics, Absolute Eagles are devout Eagles fans and have worked to reproduce every nuance of the original records. From tight five part vocals to intricate guitar harmonies, Absolute Eagles will take you on a musical journey through the hits of one of the greatest bands of all time!
Tickets available at our Hotel Reception now.